ST. ANTHONY'S CENTRAL HOSPITAL, NOW SLOANS
Transformation of a decommissioned central city hospital campus into a new seven and half block mixed-use project located 3-blocks from light rail between Denver's Sloan's Lake Park and West Colfax Avenue. Completed in 2020, the project totals more than 1,150 new households, 75,000 SF of new retail, and 60,000 SF of office and medical space.
St. Anthony's Central Hospital
began as a 180-bed community resource established by the Poor Sisters of St. Francis in 1892, in what was then a remote location on the western edge of Denver. Over the next century, the hospital grew to more than 1 million square feet, attained a reputation for excellence, and established "Flight For Life" – the first civilian-based emergency medical helicopter in the U.S. By the mid-2000's the hospital, having outgrown its facility, announced plans to relocate. The following year, a task force was convened to study and recommend guiding principles for the site's redevelopment and in 2006 the City of Denver updated plans to contemplate the redevelopment of the hospital campus. In December 2012, Catholic Health Initiatives of Colorado completed its relocation of St. Anthony's Hospital to a newly constructed facility in Lakewood, Colorado, vacating the 18.8-acre Denver site from which it had provided health care services for more than a century.
EFG-South Sloan's Lake I, LLC, an EnviroFinance Group subsidiary, acquired the site in January 2013 and set about readying the site for redevelopment — abating and demolishing the more than 1 million SF of structures and central plant facilities and remediating the surrounding site. Concurrent with site demolition, EFG master planned and re-entitled the property.
Over the course of 2012 and 2013, the project team engaged in more than 40 community meetings (a number that would grow to more than 80 by project completion) to prepare a master plan and adopt the array of approvals required to successfully redevelop a project of this size: General Development Plan, Transportation / Sewer / Drainage / Water Engineering Plans, Open Space / Landscape Plan, Subdivision Plat, Development Agreement, district-wide affordable housing plan, Urban Renewal Plan / tax increment area, and two Metropolitan Districts.
By overlapping entitlement efforts with demolition, the project was positioned to pull permits and proceed directly from demolition to site grading to construction of onsite and offsite utilities and roadways without delay in 2014. EFG then closed on the sale of the first developable parcels and Trammell Crow Residential began vertical construction of a 369-unit apartment complex in summer 2014 – eighteen months after the hospital closed its doors. Over the course of 2015, the EFG placed the remaining phases of development under contract, formed two metro district boards, seated the neighborhood-based design review committee, passed a site-wide design overlay district, up-zoned 2 city blocks to CMX-12 and CMX-8, and assembled an additional half block of property along West Colfax Avenue – bringing the total redevelopment area to 20 acres.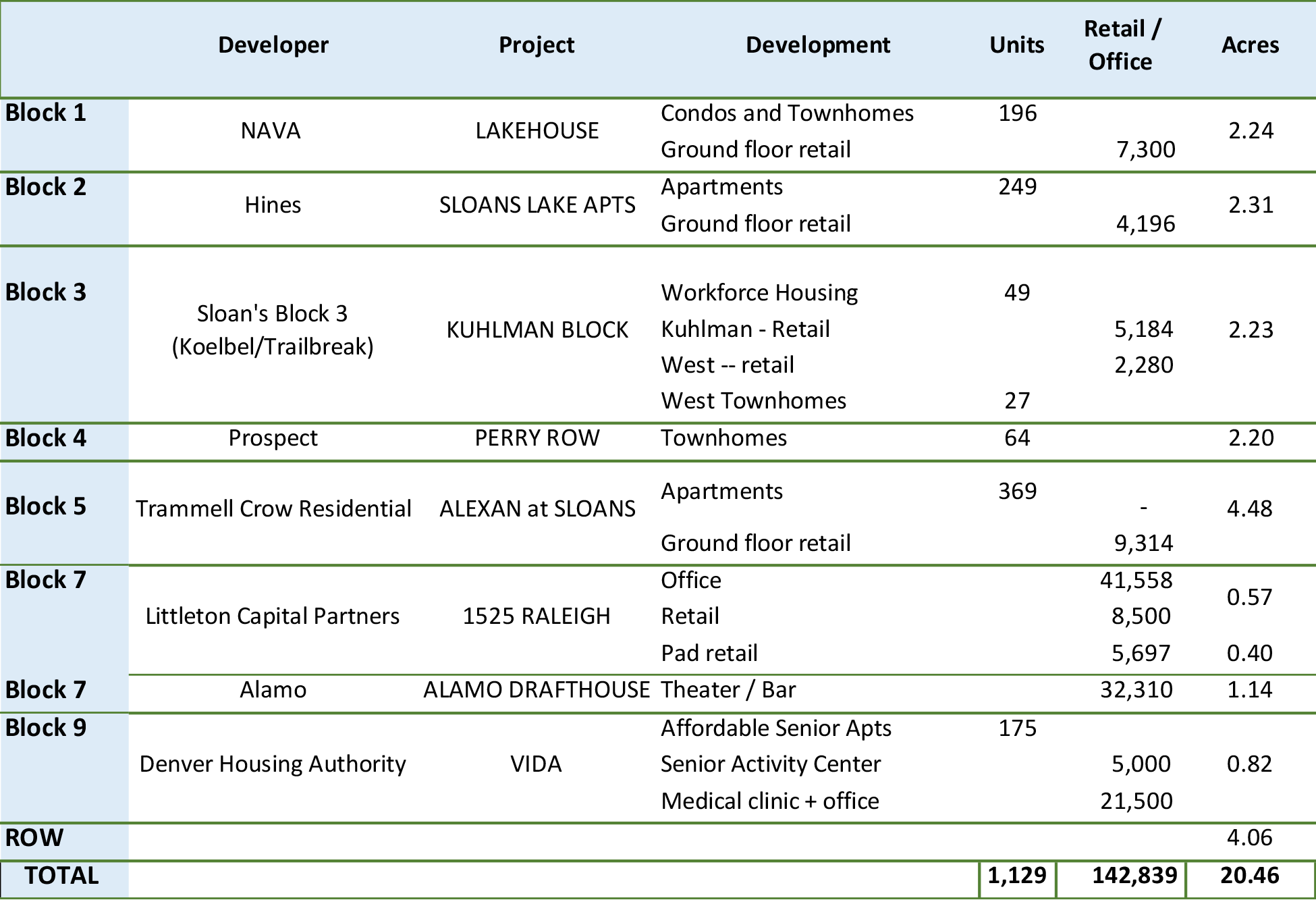 IMPACT
Green Demolition — EFG successfully repurposed, reused, and/or recycled more than 98% of the former hospital campus by volume.
A core component EFG's approach to large in-fill redevelopment efforts like St. Anthony's is the need to establish a comprehensive approach to smartly and safely abate, demolish, and remediate brownfield sites and to minimize the impact on the surrounding community. EFG established an aggressive reuse and recycling program during the demolition and remediation of the St. Anthony's campus; including
the repurposing of abandoned medical equipment (surgical lighting, hospital beds, imaging equipment, etc.) and central plant equipment (boilers, chillers, etc.) by hospitals in Central and South America;
the segregation and recycling of lightbulbs, smoke detectors, and ceiling tile by the thousands; and
the on-site crushing of the building's superstructure, generating more than 60,000 cubic yards of crushed concrete repurposed onsite as road base for the new development.
These efforts significantly reduced the project's carbon footprint, eliminated the need for more than a thousand truck trips through the surrounding single-family detached neighborhood, and generated more than $2.6M of additional project revenue and cost savings – more than offsetting the added cost of the added effort.
Green Infrastructure — The new SLOANS community is a LEED Gold neighborhood development.
One of the first and largest infill developments in Colorado to seek a LEED rating at the neighborhood scale, SLOANS achieved a Gold rating for a community of more than thousand households. Notable efforts to create a more sustainable neighborhood included:
Implementing vertical development guidelines prioritizing concrete water and energy conservation over more subjective aesthetic elements in order to reduce heat island effects and light pollution;
Developing the first neighborhood-scale system of streetside porous landscape detention planters in Denver, a practice that is now part of the city's mandatory green-streets initiative; and
Constructing a regional stormwater system owned and maintained by a metropolitan district, reducing the per household cost of compliance and increasing the amount of land available for usable open space.
Affordable Housing — EFG's housing plan resulted in two and half times the number of affordable units than city policies targeted.
In Colorado, tax increment financing (aka TIF) is most commonly used to finance civil infrastructure and open spaces. At SLOANS, EFG turned that on its head; instead leveraging the significant increase in tax base generated by market rate development to subsidize the expansion of affordable housing and the preservation of historic structures.
EFG negotiated a project specific affordable housing plan with Denver, allowing for the transfer of affordability obligations across parcels and the utilization of TIF to expand housing opportunities. These efforts resulted in a range of affordable options including deed-restricted workforce housing (60 to 80% AMI) to deeply affordable senior housing (30 to 50% AMI) that total almost 25% of the total number of housing units constructed — two and half times Denver's then baseline target of 10%.
Historic Preservation – "Get thee to a nunnery!"
In addition to using TIF to further affordable housing goals, EFG was able to preserve for reuse four structures from the hospital campus, including the original St. Anthony's chapel (now a plaza) and the 1930's nunnery that housed the nursing staff (now home to 49 units of workforce housing and the Odell's brewery).
NEIGHBORHOOD REVITALIZATION
Once a "miracle mile" of auto accessed dining, entertainment, retail, and hospitality, Denver's West Colfax Avenue in 2015 was comprised largely of used car lots, check cashing, and dispensaries. A key objective of the neighborhood surrounding the former hospital campus was to bring in neighborhood serving retail establishments and begin to revitalize its rundown main street. Anchoring the Colfax frontage with the Alamo Cinema and Drafthouse, EFG condominium-ized the former 707-stall hospital parking garage, cross-parking daytime office workers with nighttime and weekend movie goers as well as adjoining apartment renters to minimize the overall parking footprint and reduce the per stall cost for each.
The resulting 75,000 SF of commercial development, while anchored on Colfax, is spread across the entire 7-block development footprint, mimicking the neighborhood-scale "pocket retail" for which the neighborhood was once known. These developments along with demand from the more than 1,100 new residential units helped usher in a wave of new mixed-use developments that continue to transform West Colfax.